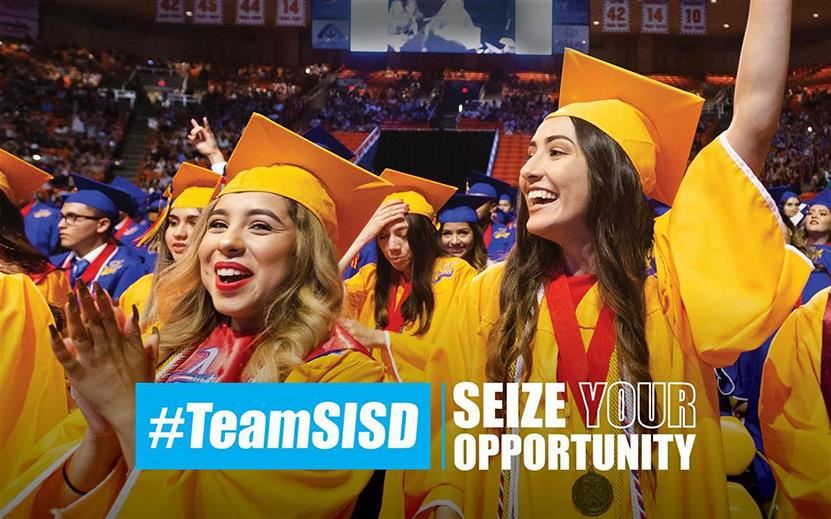 The Socorro Independent School District is a growing school district serving more than 48,000 students with innovative instruction in state-of-the art facilities. Team SISD is an outstanding educational institution having been recognized at the local, state, and national level with numerous achievements.
SISD is dedicated to offering endless opportunities in all campuses focusing on college and career readiness for all students. SISD educators are highly qualified, effective professionals and are dedicated to their students, schools and communities. Every member of Team SISD is committed to offering a high quality, rigorous education to ensure all students succeed. The district operates on a year-round calendar and has a long tradition of success.
Tomorrow's Leaders Learning Today
   Vision
The mission of the Socorro Independent School District is to optimize each students' academic, artistic, athletic, career, and interpersonal opportunities.
   Mission
Academic Achievement: 2021-2022*
| | |
| --- | --- |
| District Accountability Rating | 88 (B) |
| Campuses that Met Standard | 48 |
| Campuses that Did Not Meet Standard | 0 |
| Campus Distinction Designations | 101 |
| Number of graduates in 2022 | 3,504 |
| Graduation rate (Class of 2021) | 91.3% |
| Scholarships and grants earned by graduates (Class of 2022) | $61.8 Million |
| | |
| --- | --- |
| Students | 48,049 |
| African American | 2.1% |
| Hispanic | 92% |
| White | 4.2% |
| American Indian | 0.2% |
| Asian | 0.5% |
| Pacific Islander | 0.2% |
| Multiethnic | 0.8% |
| Economically Disadvantaged | 70.2% |
| English Learners (EL) | 27.4% |
| Military-connected Students | 12.6% |
| | |
| --- | --- |
| Total full-time employees | 5,901 |
| Teachers | 2,912 |
| Professional support | 570 |
| Campus administration | 147 |
| Central administration | 40 |
| Educational aides | 583 |
| Auxiliary staff | 1649 |
51 Campuses
6 Comprehensive high schools
11 Middle schools
5 Pre-K - 8 schools
25 Elementary schools
4 Specialty campuses
*2021-22 TAPR