The Socorro Independent School District is an innovative school district with a long history of excellence in academics and providing outstanding service for its families and stakeholders. The district is the second largest district in the region, covering more than 135 square miles and serving East El Paso, the City of Socorro, and Horizon City. SISD educates more than 48,000 students in 50 campuses with more than 7,000 employees delivering rigorous and relevant instruction and meeting students' needs for them to become confident, well-prepared graduates.
Its legacy of 60-plus years started as a small rural school district and sprawled to its status as a large urban educational system at the forefront of public education. Team SISD's vision always has focused on preparing students for success in the future starting with a solid foundation of opportunities in early childhood education, advanced academics, championship athletics, outstanding fine arts, innovative career and technical education, state-of-the-art technology, and world-class facilities.
The development of the 2023-2027 Strategic Plan was a critical action necessary to further improve instruction and operational systems to keep Team SISD ahead of the curve for its students to succeed now and in the future. The strategic plan is a roadmap to make certain that our daily work is in line with our priorities, beliefs, and vision to give all students the equitable and enriching education they deserve.
Many months of reviewing existing systems, identifying the strengths of the district, and recognizing the areas that need improvement were integral to the development process and included key individuals, including district leaders, educators, and stakeholders. The SISD Board of Trustees, superintendent, leadership team, students, teachers, parents, and community members participated in numerous meetings to discuss the district's successes, weaknesses and how to propel Team SISD forward to continued achievement.
The stakeholders involved in the strategic plan development process considered and discussed many issues impacting Socorro ISD. The district's continued success with its rigorous instruction, advanced academics, dual credit classes, early college high schools, highly qualified faculty and staff, and collaboration with parents and community were recognized as strengths to continue building upon. Awareness of challenges such as competition from charter schools, keeping pace with growth, updating and expanding facilities, further social and emotional support for students, teacher and substitute retention and recruitment also were considered in the process.
The SISD Strategic Plan was created with these key topics in mind and a thoughtful outlook on what future students and schools will need to succeed. The plan will guide Team SISD to maintain a strong focus on its vision of Tomorrow's Leaders Learning Today and its mission to optimize each student's academic, artistic, athletic, career and interpersonal opportunities.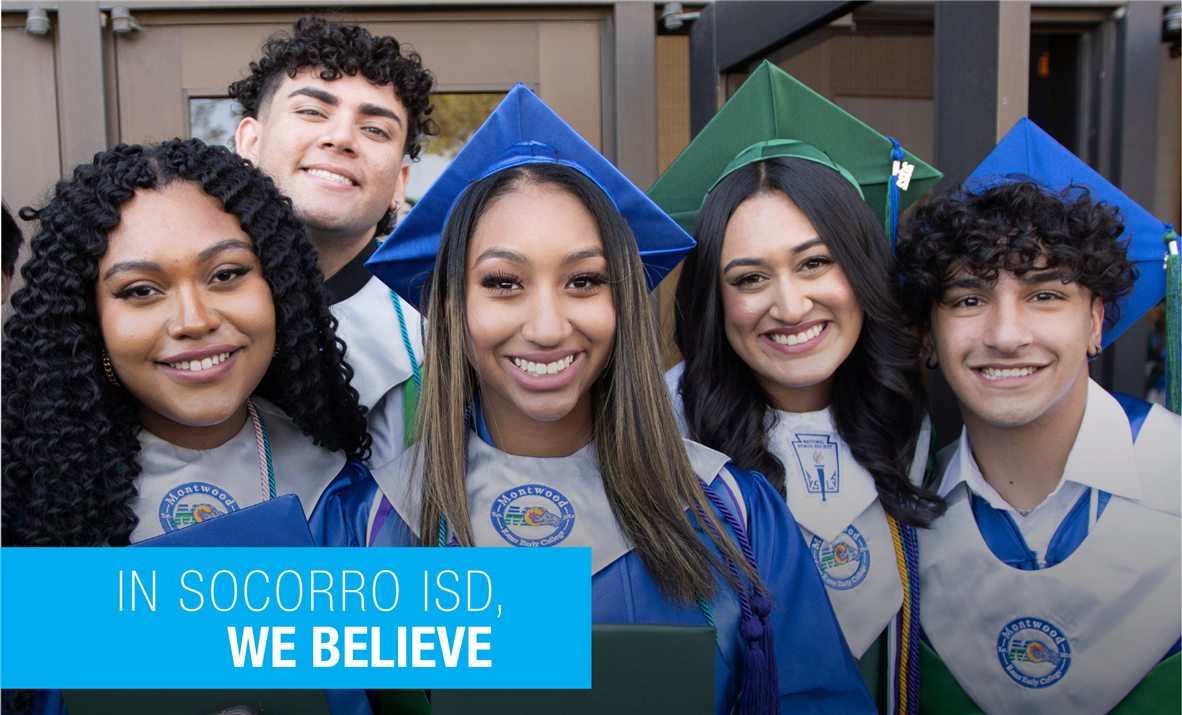 VISION
Tomorrow's Leaders Learning Today
MISSION
The mission of the Socorro Independent School District is to optimize each student's academic, artistic, athletic, career and interpersonal opportunities.
Students shall receive a high-quality education in a safe and supportive environment with equitable access to learning opportunities, allowing them to realize their full potential.

Parents and Families shall maintain a caring and collaborative relationship through two-way communication with the district, in the best interest of their children.

Faculty and Staff shall exhibit professionalism in all aspects of their work, always advocating for students and putting their best interests first.

Campus Leaders are professional educators who shall lead with compassion to foster a positive campus culture that welcomes, accepts, and cares for the school community and their education, safety, physical and mental well-being.

The Superintendent/CO Staff shall be active and engaged listeners who model integrity and transparency while being sensitive to the diverse needs of the community.

The Board of Trustees shall represent the District as a unified team with integrity, visibility and transparency in decision-making, and ensure staff has the necessary resources and appropriate accessibility to address the diverse needs of the students, staff, and community to achieve excellence.

STUDENT ACHIEVEMENTAND GROWTH
PRIORITY 1
Grow and support each student with robust opportunities.
STRATEGIC OBJECTIVES
1.1
Improve academic achievement for all students.
1.2
All students are College and/or Career and/or Military Ready.
1.3
All students will have responsible decision making, self-awareness and self-management skills to be well rounded citizens.

STAFF SUCCESS AND SATISFACTION
PRIORITY 2
Recruit and value all staff to ensure satisfaction and retention.
STRATEGIC OBJECTIVES
2.1
Recruit high quality talent at all levels.
2.2
Ensure quality capacity building for all staff at all levels.
2.3
Increase employee satisfaction and retention.
COMMUNITY COLLABORATION AND ENGAGEMENT
PRIORITY 3
Serve and market to our community through communication, collaboration, and engagement.
STRATEGIC OBJECTIVES
3.1
Increase parents and student satisfaction and engagement.
3.2
Increase satisfaction and engagement of the community at large.
3.3
Maximize high quality marketing to raise stakeholder awareness of program offerings.

OPERATIONAL TRANSPARENCY AND EQUALITY
PRIORITY 4
Transparent and efficient processes to ensure equitable distribution of district resources.
STRATEGIC OBJECTIVES
4.1
Ensure systematic, long-term facility maintenance and expansion planning.
4.2
Develop and maintain strategic resource allocation ensuring equity of funds district wide.
4.3
Ensure systematic and transparent long-range financial planning.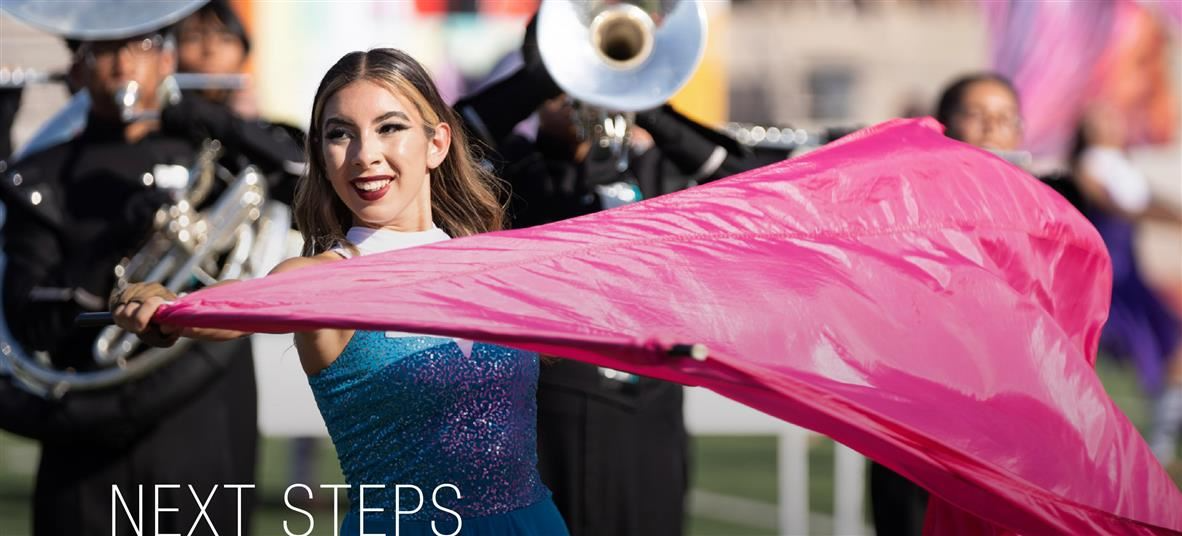 The SISD Strategic Plan 2023-2027 provides a clear path for Team SISD to move forward with unity and purpose to help every student become a confident and well-prepared graduate ready to embark on a bright future. The priorities and objectives in the plan will direct our actions to achieve student achievement and growth, staff success and satisfaction, community collaboration and engagement, and operational transparency and equity.
SISD is committed to working toward academic and overall excellence involving all stakeholders in the district. The daily work that is accomplished in line with the vision and mission of the district will strengthen our student performance, improve instructional strategies, and enhance our procedures and protocols.
The priorities outlined in the strategic plan provide all stakeholders -- students, teachers, administrators, parents, board trustees, community members – a focused view on the actions that need to be accomplished for overall success. The plan will be updated regularly and maintained online as we work to move the district forward with integrity and excellence. We will adjust to ensure we remain on a path to success in every classroom across the district.
The meaningful conversations and active engagement that spurred the development of the strategic plan will remain key in our journey to take Team SISD to greater achievements. As we leverage our established successes and develop refinements in instruction and operations, our commitment will always be to work together, listen, engage, and support to best serve all SISD students, staff and families.
The 2023-2027 Strategic Plan is a joint effort that will take Team SISD on a path to greatness as it continues its unwavering dedication to ensure all students achieve their highest potential to succeed in college, careers and beyond.